As technology continues to evolve, the potential continues to grow, and various devices have now been implemented into mainstream society. Virtual reality was first designed with no limits. Although used to enhance movie and gaming experiences, virtual reality has the ability to change the future of non-entertainment areas, such as business and medicine. Currently being used to treat PTSD and to train medical students, virtual reality has the ability to immerse viewers into a three-dimensional world. Essentially, virtual reality technology ensures that any and every experience can be accessed by the push of a button.
With the world at our fingertips, the VR Box Virtual Reality Glasses feature 3D technology that allows users to experience a dynamic virtual view experience wherever and whenever. These virtual reality glasses provide users with a 1000-inch big screen with a distance of 3 meters. Ideal for movie lovers or video game players, the advanced technology and design of the VR Box Virtual Reality Glasses offer a unique experience that caters to comfort and quality.
About Rok7 VR Box Virtual Reality Glasses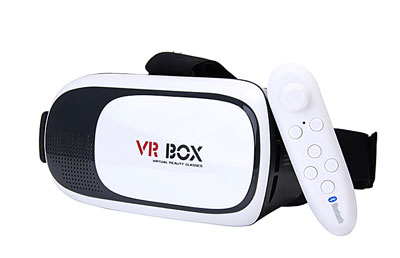 Featuring a flexible, adjustable headband, the VR Box glasses are designed to fit most head shapes and sizes. As mentioned previously, the glasses are designed for comfort. Featuring an adjustable pupil distance and sight setting, it allows users to optimize the glasses to suit their individual needs. Furthermore, the glasses can also be worn with prescription glasses, allowing individuals with various eye conditions to enjoy the experience of virtual reality.
Ensuring that users will be thrown in the middle of action, the VR Box 3D glasses allow the users to experience maximum entertainment without the dizziness or visual fatigue that can often occur during 3D motion pictures. Additionally, the device features a soft sponge cushioning around the edge of the glasses, allowing them to be worn for long periods of time without discomfort. A budget friendly device, the VR Box 3D glasses features Bluetooth remote control that can be used with iOS and Android smartphones that measure between 3.5-6 inches.
The device comes with a user manual that allows buyers to set up the device. The VR Box glasses work by implementing dual-optics as well as side-by-side imaging, combining them together to create the 3D video or image. For initial use, users should test the VR Box glasses to customize optical settings. First, users should select a video from their phone or on the internet, once selected, users should then place their smartphone into the plastic insert found in the VR Box. Users should then put on the VR Box headset and adjust the optical settings until the image until the image is clear.
Rok7 VR Box Virtual Reality Glasses Features
Featuring a compact, lightweight, modern design, the VR Box is fitted with specifically designed, 42mm diameter spherical resin lenses. Immersing the user into the world of virtual reality, the screen can be adjusted for optimal viewing. The optical adjustment setting allows the user to move each lens individually for different ways: forwards, backwards, right, and left. Offering a diverse range of focus, the optical axis is optimized for ease. Supporting 3D split screen, the VR Box does not limit experiences, whether game or movie.
Optimized for video game playing, the VR Box comes with a Bluetooth game controller that is designed to amplify the playing experience. In order to set up the game controller, users must simply select it from their Bluetooth settings in their smartphone devices. The controller works extremely well, and can also be used for games that are not just compatible with virtual reality.
Designed to provide users with an immersive gaming and movie experience, the VR Box provides clear and bold visuals, providing vibrant colors and a realistic exposure. Using the Bluetooth controller that has been added for convenience, it is recommended that users complete the virtual reality experience by purchasing virtual reality games that can be found in the Google Play Store or Apple App Store.
Although the number of virtual reality games feature a limited amount, users should find games and apps that are compatible and optimized for a virtual reality experience. Although virtual reality games may be lacking, there is a large number of virtual reality videos that can accessed through a variety of online platforms, such as YouTube.
Purchasing Rok7 VR Box Virtual Reality Glasses
VR Box Virtual Reality Glasses are available for purchase on the Rok7 website (www.Rok7.com). Offering free shipping within the United States, the price for the VR Box Virtual Reality Glasses is currently $42.99.